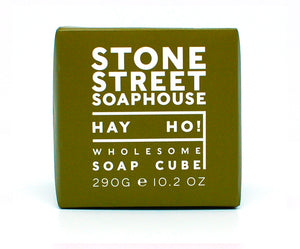 Hay Ho! Wholesome Soap Cube
Sale price Price $18.00 Regular price
Tax included.
Shipping
calculated at checkout.
Unapologetically chunky, delightfully nostalgic and crafted in small batches, our iconic block soap will envelop you in a rich lather, leaving your skin soft, scented with camomile and celery seed extract, and gently nourished. 
We were told, when developing this bar, that it wouldn't wash (so to speak); that people don't like hard soaps; that it is too big, too cumbersome, for people's hands; that they only want diminutive lavender-scented scraps in floral-print packaging.
However, we stuck at it, and we happen to love our soap's nostalgia, its integrity, its obstinate size. Heck, in the wrong hands it could be a lethal weapon. Just don't drop it on your toe.
Made with 100% responsibly sourced natural oils. Vegan friendly. Free from tallow, artificial colours, parabens and SLS. Made in England. 290g 10.2oz