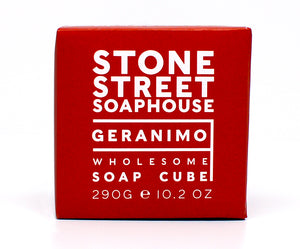 Geranimo Wholesome Soap Cube
Sale price Price $18.00 Regular price
Tax included.
Shipping
calculated at checkout.
Half floral, half herbal and 100% natural loveliness (Maths was never our strong suit), the Geranimo block soap is the Luciano Pavarotti of body care – larger than life, flawless on stage and smooth as Italian silk.
The megastars here are geranium flower, hazelnut oil and almond oil. The bright floral scent is inspired by a twilight stroll through a wild flower meadow.
Made in England with 100% responsibly sourced natural oils. Vegan friendly. Free from tallow, artificial colours, parabens and SLS. 290g 10.2oz